MOVED
The last day of school was
EMO
]: It's weird how just about when I'm about to leave Cedar did I realise that it was not a bad school after all and I learnt not be ashamed of the institution I was in. Most importantly, I made some
real
friends. It dawned on me that I've wasted the past 2 years hating the school when I could have thoroughly enjoyed myself there.
Omg it's so hard saying goodbye.
TENNIS
FOR YASMIN;
Let's stop crying and smile!! :D
WE SHALL BE HAPPY PEOPLE!!
Thank you for being there for me all this while, lending me a listening ear and chasing all my blues all away:D It has been so fun having you as a fellow tennis player! Remember when got paired by the formal coach to played doubles during nationals? haha. I got so nervous got it was my first and only double match in the tournament and I've never been paired up with you before! Although the results were :S, I realized that you were a great person to hang out with & we became good friends didn't we?![: Have fun at VJC and we shall visit cedar together every now and then &you shall tell me how fun VJ is. I'm going to miss
flying planes and riding motorbikes
with you!!
YASMIN<3>
FOR SIYING;
MY SEXY BALLERINA/CHEERLEADER!<3>
I'm
veryveryvery mad
at you for whamming the netball into my poor little finger during PT and twisting my little finger on my right hand.HMPH.It's now crooked]:< haha. but I'm going to
MISS YOU &YOUR LITTLE CRAZY SELF
[: I'm going to miss the
butt-whacking
too, maybe I'll ask
KHOOWANYEEKELLY
for help:P
FOR KELLY;
Be good and become captain of tennis! I'll be rooting for you all the way cause you have all the qualities to become CAPTAIN & more importantly, I believe in you(: YAY. We shall be happy people and not cry too ((: &don't worry, I'll never forget your name,
Ms KHOOWANYEEKELLY
:D remember me too k?! I'm the one who bought you the delicious birthday cake for your birthday and the one who keeps teasing you about DUTCH!&its an-ner-rek-sic, not n-ner-roc-sic you BOOBOO! LOL. Help me
whack Siying's butt
once in a while okay?
Omg.
I LOVE KELLY TO BITS AND PIECES<3>
FOR CHLOE;
I LOVE CHLOE TO DEATH<3>
You have been such a fantastic friend and perhaps a
bestie equivalent
[: You still me owe me my birthday present]: haha, there's seriously no need, your friendship is good enough[: YIPEE. I'm sorry for getting you such a
FAT
grip! I'll miss talking total nonsense to you and sometimes you tend to convert to
ALIEN
with cherise and I don't understand a single word! I'm going to miss slacking during training, complaining and doing loads of stuff with you too!! Sniff. But we still can talk over msn with our manymanymany
evil twins
and I promise I'll visit your blog to go play with
Mr. Cloud
. Protect Kelly& Siying from the lizards on court by chasing them into the H2O bottles that our formal coach left lying around! Continue hitting and bullying people with your high balls &
I still can't receive them till today]:
! Florence found your green racket somewhere in her house btw. Stay smart and
couch potato-ish
[:
FOR ALETHEA, JESSICA & CHERISE;
It has been great having you guys on the tennis team. Alethea the oh-so-dedicated to Christ, Jessica the talented artist/pianist and Cherise, the anime-obsessed and hard-hitting tennis player! Continue doing well in what you're good in [:
FOR SENIORS;
Thank you for being there, forcing me to run and jump to burn those
FATS
. Mug hard for your Os and may you get fantastic results!! *
NYIN HUI!
It was great having you as a rally partner; thank you for tolerating and replying all those
lousy shots
I gave you!! <3>*
FOR JUNIORS;
It has been great fun knowing you!<3> There would be any need for you to set up nets and pick up balls anymore next year, but don't bully your juniors!! Train more to do our team proud and mug hard for streaming next year too!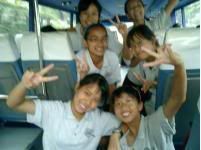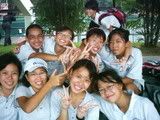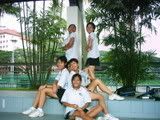 2O'06
ANNMARIE!
FUNKAYYE ORANGE-LIKING BASKETBALLER<3>
The pretty girl with the everlasting passion of basketball and sends guys tumbling down the staircase:D Thank you for lending me ankle guards so many many many times because I keep forgetting to bring mine; if not for you I think my foot would have probably been amputated by now. I'm going to miss doing the
hoppyhoppy thing
and listening to your
crazyyy
songs by you and shakila!! Take care of you knee and don't injure yourself anymore!(:
ESTEE!
MY RICH FRIEND! &1/3 OF AN OREO! <3
you
owe me TEA(X3)
and even though you're probably never going to give me my tea(x3), I'll
ulove you no matter what
. YAY. Thank
YOU
for motivating me during the examinations. (how?; It scares me that you've mugged so much when I haven't and I start to mug twice as fast as my original speed!;]) I want to be your
VVVVVIP
at your wedding pokay?! &I want to be invited to your
tea reception!!
&& I want to be invited to your
Scottish
home! (well, if my prediction is correct) &&&I know that you would become a
top notch career woman
one day so
DO NOT
forget me. Oh and I still have your
PILOT secret[:
ETEE P-ANG<333>
YOUR GUESTBLOG ENTRY;
Ah… so here I am, my dear Sarena invited me to "guest" blog for her and how could I refuse? Must give face to my richer friend(:

well, we're at the end of the year, and time have really passed by remarkably fast this year. And I have made such close friends, much more than I expected when I first stepped into 1/O in 2005. Haha… I still remember after the orientation camp, a few of us were waiting for our parents to pick us up. We were just talking if I'm not wrong Shalini was there. Precious memories isn't it? And after much struggle and luck we managed to clinch the Best Class Award, which was certainly a surprise. And after that, I felt our class come much closer the following year. I started becoming close to people who I didn't know were so nice and open. Elle was one of the first, and my partner in crime. She and I would just sit at the back of the class, enjoying the breeze from the window and talk and talk and talk. I swear I don't know how she put up with me. (: Then there was Shalini, who always without fail would come by Elle and my place to talk to us. There was once Shalini sat under Elle's desk for the whole lesson and amazingly didn't get caught by the teacher. Rena was always joking and laughing about with me, and when it came to work, whether was collecting forms or group work, they were so helpful and motivational. Plus she's the one who would come to my defense at times when I got bullied by the rest. Thanks Rena! and Sarena was great help to me when I was down with work I didn't want to do, just some how pushing me up, or rather dragging me along at her fast pace. And some where in this year, she decided that I married a foreigner, and owed her tea because I didn't invite her from my supposed wedding. For the record, I owe her tea x3(:(:

haha… here's a little glimpse into my life. Sec two started out great and for me it'll never end. Here's wishing all my beloved classmates the best of luck, in whatever you do wherever you go. And hopefully, we'll always be as close as we are, maybe closer. From the bottom of my heart, thanks so much 2/O for everything, the laughter, the worry, the joy.

-ESTEE
ps: happy deepavali everyone

RENA!
MY SUBSET!
I want to do the whole equation
AGAIN
.
RENA is a SUBSET of SARENA
RENA is a PROPER SUBSET of SARENA
RENA INTERSECT SARENA is RENA
RENA UNION SARENA IS SARENA& RENA!!<3>

YAY. Therefore, I'm your
UNIVERSE!!
&not only are you my subset, but my sunshine!! Thank you for chasing all my blues away with your smile that always lasts on your face:D All the best with
sailing
and sail your way smoothly to everything and of course- success!!(:
NICOLE!
SMELLY EYES!<3>
Thank you for sitting beside me in Chinese class and tolerating all my nonsense! You totally save me from the
evil searing ALIEN words
which were exploding out from the mouth of the oh-so-wicked Chinese teacher by speaking the glorious language of English[: It's going to be so torturing without you during Chinese next year. Sniff. You've such a
TOOT
for the whole 2 years, vandalizing on people, doing your
therefore/because moley thing
and going
ROAR
. You're such a
pain in the neck
but I
have no idea what I'll do without you.
SHAKILA!
OUR DARLING SUPERMODEL
with
FAB
abs.<3> &quit saying your fat, cause you are absolutely not!! You're another one of those people who send boys walking into pillars when they see you :P Best of luck with your netball tryouts and I'm sure you'll make it onto team. I shall jump everyday and the next time I see you I want to be
as tall as you
:D I'll miss the
crazyyy songs
you sing with annmarie! &thank you for being there for me all the time, especially when I'm
boreddd
. Take care of your knee/ankle too and make sure you don't injure yourself anymore!:D
SHALINI!
Oh dear you have so many nicknames!
ANTIPINK FRIEND! SHALUBUBU! 1/3 OF AN OREO! SHALUBABU!<3>
Just to name a few, but you still rock no matter what your name might be! Sorry if I made you made at times because of my inability to think before I speak , please forgive me. You have been one of my
longest and best friends
for the last 2 years and cheered me up at my darkest of moments. I can never thank you enough for being such a wonderful friend! I'll miss many things like
sending you notes on pieces of purple post-its and stinking them on your 5-sided highlighter
and singing our
BARNEY song
and a many other things.
omggg. I'm going to miss you so much!
here's the video I created for them[:
which paints a picture worth more than a thousand words
I'm getting so emo and I've still so many to thank…
YANRUI!
Thank you for being there for me throughout the mugging for examinations and motivating me on to study and do well;
rally-coaching, faxing mathematical equations and sharing literature notes
, you've made studying for the exams so much easier!
WENRUI!
You were there to motivate me for the exams too! & I remember that we were exceptionally good friends for a period of time :D
YUTING!
You are the best table partner I ever had although you bullied me at times]:< Thank you for being there whenever I'm down. & I trust you that you're not leak out the many secrets you know about me. Love you<3>
HSINYI! ZHENNA! JACINDA!
It was fun with you people around, brightening up my day and of course to help stop yuting from bullying me [:
&for people like
SHAFIKA! MAY XUEN! ELLE! NADIA! SOLEIL! CHARLOTTE! AMEERA!
&the rest of 2/o! You guys have been such great and wonderful friends for the past 2 years despite our many differences!
I'll bring all sorts of memories along with me; all those laughter&joy. Good luck for your future endeavours and strive hard for the very best :Domg, this is so deja vu.